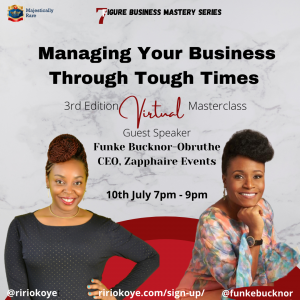 Frequently Asked Questions about  7 Figure Business Mastery Series  
What is the 7 Figure Business Mastery Series? It is an impactful interactive and engaging set of business masterclasses that take place every quarter, where we invite top, highly sought after, entrepreneurs and leaders in their industry, to teach you insights into a particular business area, so that can you learn and take your business to the next level.
When will it take place? The third series will take place on Saturday, 10th July 2021
Where will it take place? It will take place every quarter on our Zoom which is a virtual platform. That means you can join from the comfort of your home.
How long is it for? It's for 2 hours  between 7pm and 9pm West African Time
Is it Free? Yes we want to make it accessible to as many business owners and entrepreneurs as possible but spaces are limited so register fast to secure your space
What is unique about this masterclass? Aside from access to top leaders in the industry, you can enjoy speed business networking with high achievers, fun business games, and the opportunity to interact with other attendees.
Will there be an opportunity to ask questions?
Yes please come expectant. Come to take notes, listen, engage, ask questions, and network with high achievers.
Who is your guest speaker? The amazing, Funke Bucknor-Obruthe, CEO, Zapphaire Events Group –
About  Guest Speaker  @Funke Bucknor-Obruthe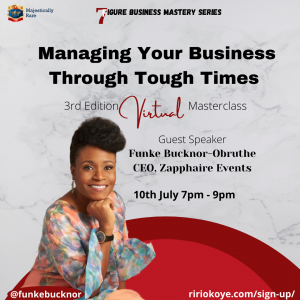 Fifteen years as a foremost event planner has earned Funke Bucknor-Obruthe a place amongst Nigeria's industry leaders. She is the founder and current C.E.O. of the Zapphaire Events Group (comprising Zapphaire Events Limited, The Zapphaire Training Academy and Decor by Furtullah) a pioneer events planning company in Africa that has for many years continued to set the trend for event architecture and design in Nigeria.
Funke's passion for innovation and excellence has built a leading Wedding and Events brand that has delivered well over 1,500 successful events across the globe and has still remained relevant.
Her passion for walking brides through the wedding process led her to publish The Essential Bridal Handbook – a first-of-its-kind wedding resource for the African market. For this reason, she also set up Funke Says – a YouTube series for brides which guides them through their Wedding planning process.
This avid entrepreneur is also obsessed with sharing industry knowledge and giving others room to bloom. This resulted in the creation of the Zapphaire Training Academy in 2009 which has birthed over 500 events professionals.
More avenues to share knowledge was the recently organized Zapphaire Connect Series which brought together past interns and staff of Zapphaire Events and alumni of the Zapphaire Training Academy to collaborate, network and help them forge ahead in their businesses and careers in the Events Industry, Also she went ahead to organize THE EVENT XPERIENCE AFRICA (TEXA) which is an annual conference geared towards equipping an ever growing audience of event entrepreneurs with the right tools needed to thrive in the industry. The conference is targeted at seasoned event professionals and beginners alike empowering them to be more and do more at the same time providing them the opportunity to learn, unlearn and relearn. The maiden edition was in January 2019 and had over 600 participants from different parts of Africa.
As a highly regarded influencer and speaker who seeks to impact lives, she has spoken at various seminars, workshops and conferences within Africa and globally.  Little wonder why she is regarded as one of the top 3 wedding planners in Africa and was recently appointed a member of the Advisory Board for The Destination Wedding Planner's Congress (DWPC). In 2016, she was also hosted by the King of Dubai for being one of the Top 10 event planners on the African Continent.
Being recognized within and outside Africa for her countless contributions to the Nigerian Events Industry, Funke was included in the BBC 100 most inspirational women in the world 2016 (and this had only two women from Nigeria) and has also been featured in several local and international media platforms such as Forbes Woman Africa, CNN inside Africa, among others.
About Host – @RiRi Okoye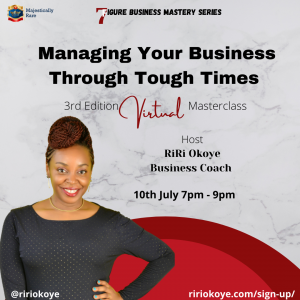 RiRi has been an entrepreneur for nearly a decade. It's been quite a journey.  She is a Passionate and Prolific Entrepreneur, International Business Trainer, Speaker, Online Moderator, Event Planner, Business Coach, Online Course Creator, Blogger, and eBook author. She is the CEO of Majestically Rare Events. She's also the executive creator and host of Business Growth with RiRi, a radio show which takes place on Inspiration FM 92.3 and sponsored by FCMB. Her career has spanned over 25 years of which 8 years were spent at the BBC in London in Events and Marketing before she relocated to Lagos in 2008.
RiRi hosts corporate and milestone events on behalf of her clients. As a business trainer and coach, she has delivered SME Capacity Building Training on behalf of corporate organizations such as Stanbic IBTC Bank, Access Banks, FCMB. She is also a mentor for new business owners with SheVentures FCMB, a leading banking community for women in business and Tony Elumelu Foundation. She has also delivered High Impact Business Growth training to SME's for the past 6 years through Majestically Rare Limited. Since lockdown, she has focused on group coaching which she delivers virtually to participants all across the world.
RiRi has various accredited business certificates from the International Open Academy. She is a certified life coach of Transformation Academy(USA) and a member of the Life Coached Association of Nigerians (LCAN). RiRi is an alumni of EDC, Lagos Business School, Pan Atlantic University.
She has been featured in Bella Naija, Ben TV Uk, Business Day, The Guardian, Vanguard Newspaper, and various local and international media outlets. She's a regular contributor to Bella Naija and Adiva Magazine.
RiRi is passionate about helping business owners with the confidence to master business skills. She has helped thousands of entrepreneurs overcome their limiting beliefs and improve their business performance, through live events, radio shows, coaching, online courses, online challenges, articles, blog posts, business support groups, speaking engagements, and collaborative events.  She loves to give back to her community with a strong focus on corporate social responsibility. She is the founder of Raising Confident Girls Initiative, a movement with over 28,000 online members, and a vision where every girl is confident.
To attend the third 7 Figure Business Mastery series  please SIGN UP
We look forward to hosting you
RiRi
P.S Did you miss 7 Figure Business Mastery Series 1 & 2?
Order Series 2 with Mr Paul Onwuanibe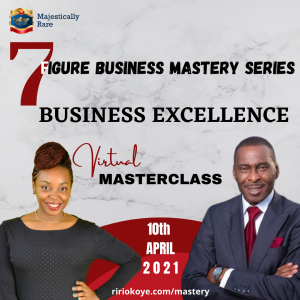 Order Series 1 with Mr Steve Harris